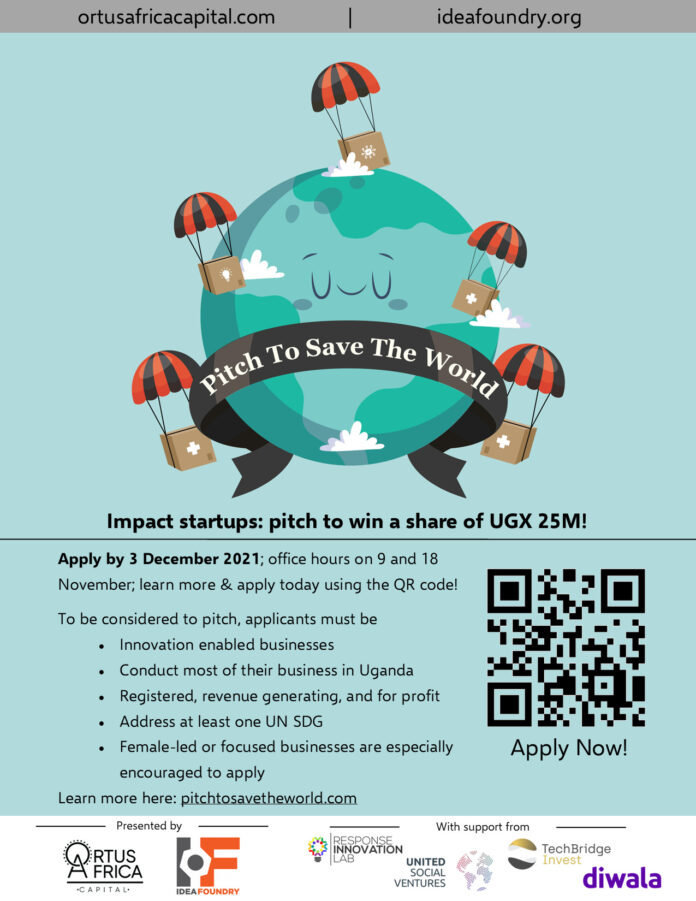 Ortus Africa Capital, together with global impact investor Idea Foundry, are hosting a pitch competition for Ugandan-based startups dubbed "Pitch to Save The World" where three winners will take home a combined Ugx25M.
The event is meant to bring together the most innovative and impact-focused startups based in Uganda that aim to tackle the world's most pressing problems as outlined by the UN Sustainable Development Goals (SDGs).
With a month-long application period, more than 100 local startups are expected to apply with the focus centered around companies meeting at least one SDG.
"The competition is expected to draw the best talent from the ecosystem, highlighting both existing and newly formed technology companies beyond the idea stage," said Kenneth Legesi, the CEO Ortus Africa Capital.
The top 10 companies will be selected to pitch at a live digital event to a local as well as global audience in January 2022 and the top three winners will take home a share of UGX 25M in no-strings-attached award money.
However, the others will not go empty handed as there are plenty of gifts up for grabs. Companies will be selected based upon the merits of their company, their ability to sustainably scale their impact-focused solution across Uganda and other markets, and the quality of their application.
Criteria to be part of the competition:
– You must be a technology enabled company operating in Uganda.
– You must be registered, revenue generating and for profit.
– The company must address at least 1 UN SDG.
– Female led or focused enterprises are encouraged to apply.
Applications to the pitch competition will be accepted from 3rd November and the deadline for applications is 3rd December.
To apply, please visit https://bit.ly/3vRYJ2J.
For more information about the competition, please visit https://www.pitchtosavetheworld.com/.