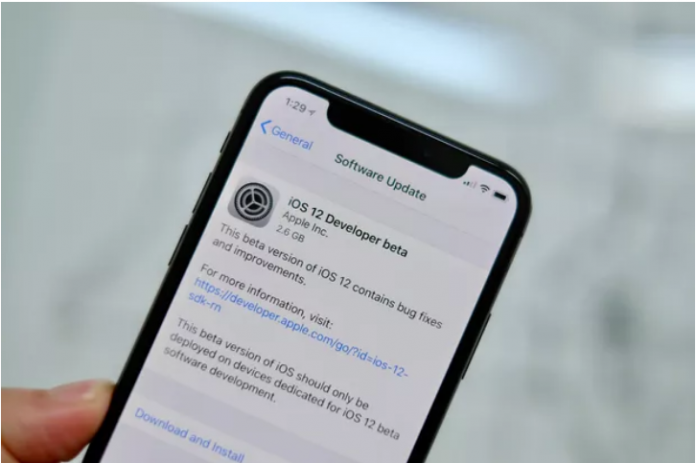 The telecommunications giant, Apple Inc. yesterday announced the release of the long-awaited software update iOS 12. Users had anticipated its release especially after the company communicated earlier that it was working on an update that would allow group FaceTime, which was unfortunately not released but delayed for later.
In the press statement, Apple mentions that the update comes with "performance improvements and exciting new features to iPhone and iPad".
The performance update allows your device to perform much faster and responsive than before. It boasts of an adjustment for the camera launch time, making it 70% faster. The camera launches 50% faster, including the apps that will open twice as fast than they used to do, even during overload.
New features have been introduced to the photos app to make it more fan, Memoji has been introduced (an update that allows for custom emojis to look like you). Siri shortcuts have also been introduced, and a new service called screen time. Animoji now includes T. rex, Ghost, Koala and Tiger, also allowing it to capture animations up-to 30 seconds longer.
Screen Time tells you how much time you spend on your phone so that you can be able to adjust and balance your smartphone usage.
Do not disturb during bedtime is a new feature that allows your phone to keep receiving notifications but hides them from you to keep you from distractions in your sleep.
For the developers, the improvements to the AR (Augmented Reality) kit, makes it easier to share innovation experiences with other developers, with a feature called persistence that enables one to continue from where they left off. Object detection and image tracing now give users the ability to recognise real-world objects and track images while they move on space.
Other improvements have been made to Siri, photos, camera, messages, notifications to allow for grouping of similar ones, privacy and security, Apple Books, TV, music, news, stocks, voice memos, podcasts, accessibility, among others give you a user a new experience to your Apple device.
However, not all Apple devices are supported for the new update. Supported devices include the iPhone X, iPhone 8 and 8 Plus, iPhone 7 and 7 Plus, iPhone 6S and 6S Plus, iPhone SE, iPhone 6 and 6 Plus, iPhone 5S, iPad Pro (9.7-inch, 10.5-inch, and both generations of 12.9-inch), iPad (2018), iPad (fifth-gen), iPad Air and iPad Air 2, iPad mini 2, 3, and 4 and the iPod Touch (sixth-gen).  This essentially improves the performance of even the oldest Apple devices.
To download the update over-the-air, go to the Settings app, General, then choose software update, and the update will start to download at a free cost.
Any delays in the download could be because the Apple servers are overloaded with download requests from all over.
Image Credit: Cnet