We have arrived at a point in Uganda where a shopping experience has to be swift and amazing. This has been partly harnessed by the rise of third-party applications and portals that ease shopping. Jumia, Qwicart, Masikini, OLX and more has given shopping an even better experience on the Go.
After running fair deals on royalty card offers, vouchers and more, Supermarkets are upping their game on making customer shopping experience better. Capital Shoppers a Ugandan supermarket chain with 4 mega Branches in Kampala has released a shopping App.
As I made a stroll through Capital Shoppers Ntinda to buy a few groceries, my eyes were met with a gigantic banner announcing the launch of their shopping App. I immediately downloaded it to get me an easier shopping schedule.
The supermarket chain owns and operates four supermarkets in Uganda; all located in Kampala, the capital of Uganda, the third-largest economy in the East African Community. Capital Shoppers is the largest locally owned supermarket chain in the country. Founded in 1997, the family-owned store chain has a customer-loyalty program that offers 4% rebate on purchases, the highest in the industry in Uganda.
The app dubbed "Capital Shoppers" is an online shopping App that eases shopping from the comfort of your home and you get products delivered to your doorstep. By downloading the Capital Shoppers free online shopping app on your phone, you can have a comfort to buy from our massive collection of thousands of items like Groceries, Home Appliances, Electronics, Garments, Accessories and many more.
This aroused my profound love for the app and for about a week now, I have had the Capital Shoppers App on my phone and I feel I should share more about it and my experience using it.
The Design…
The Capital Shoppers App has a basic design beaming white and green colours (These are the theme colours of Capital Shoppers). You are welcomed with the Capital Shoppers logo on tapping it and you are seamlessly directed to its homepage that pretty much has all the functions in bold and easy to access.
While on the Home Page, you are presented with a top slider bearing artwork for the supermarket. Below the slider is a button that directs you to the entire categories that are at the Supermarket. The 'Offer Of The Day" and the 'Best Seller' from Capital shoppers are also there for you to choose from. On the Right top corner is the 'Cart' with all your goods that you have selected for shopping and below it is the search button to find exactly what you want.
The 'Menu' Button sits on the top left corner of the app and when you click it, you are ushered to the various options that the app has to offer which include;
'Order History" that helps you track your orders with the supermarket.
Manage Address: This feature is to help you add or remove a particular address where you want your good delivered.
Notification: This feature once enabled will give you all updates from the Supermarket on offers, the progress of your order and more.
Setting: This is by far the most misplaced feature on the App, it simply allows you to activate the 'Notification' setting and that's all. What a Waste!!!!
Feedback: This one is more of a platform to give your audience to share your feedback about the app and the supermarket service. It's is a suggestion box of sorts but on the app.
Rate and Review: This too is also a useless feature on the app and could have been merged with the one above. Even after rating the app via the app store, this feature is simply there to send you back where it all started from, the play store.
My Reward Points: For being a loyal customer and user of the app, you will be rewarded and this feature will show you the points you have. Ideally, these points can be accumulated and used for shopping.
My Gift Cards: For those that may want to buy vouchers and share or surprise someone, this feature serves that purpose. The cards can be listed under this feature.
Wishlist: Most importantly, here is where you may add goods that you may need to buy at a later time. Your wishlist is basically something you intend on buying at the supermarket but at a later time or not instantly. The other features in order include the 'About Us, 'Privacy Policy" and 'LogOut".
What's more to It……
Before fully trusting the app, I had a myriad of questions I asked myself ranging from usability, relevance, the performance of the App and much more. However, interestingly, Learnt that for starters, it's a really light app only consuming about 12mbs of space.
While many Ugandans may have trust issues at heart, The Capital Shoppers app also supports various payment methods from 'pay on delivery', and the makers of the app are promising you Safe and Secure Shopping.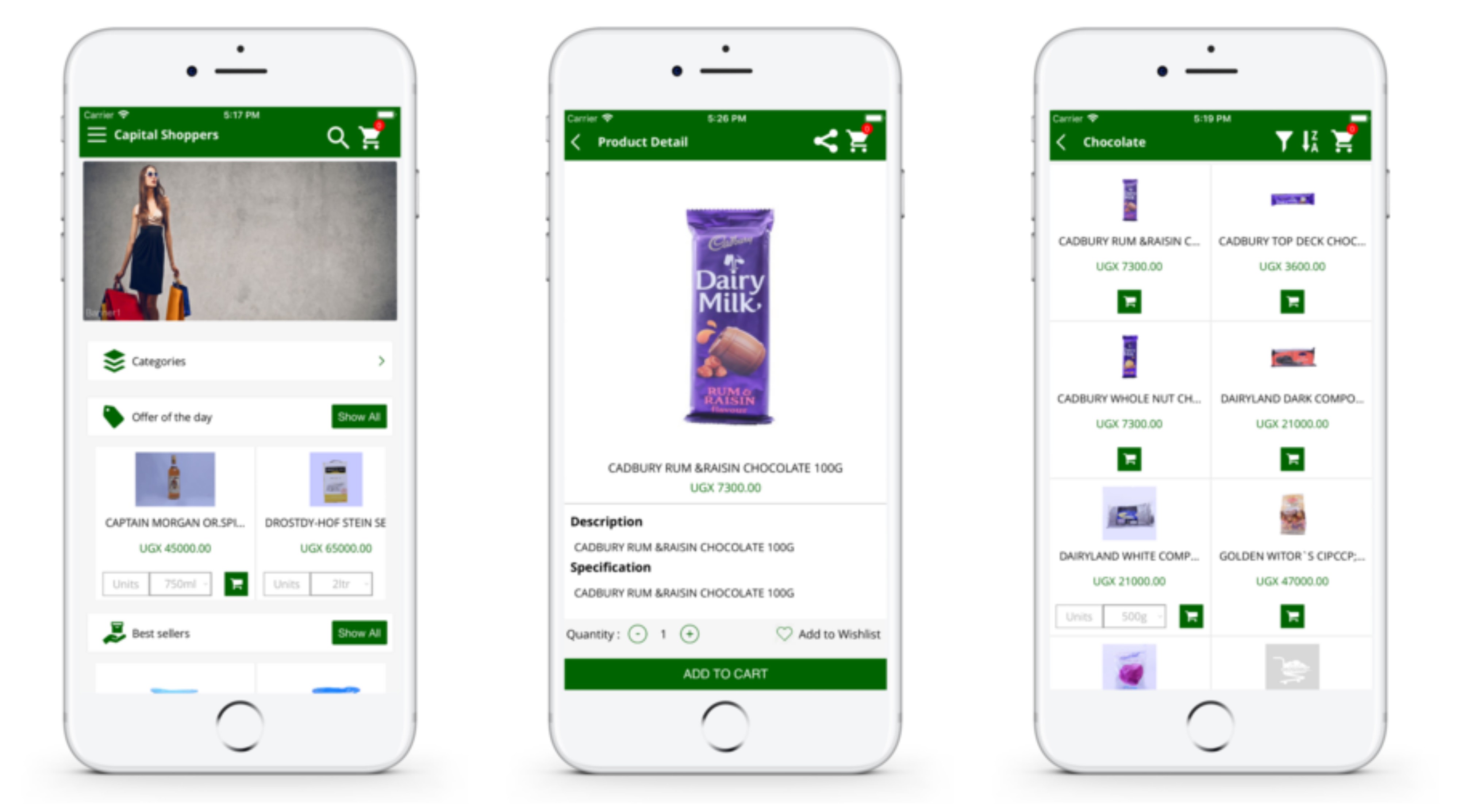 You can Shop using your Credit/Debit Card, knowing that all transactions are securely processed. Capital Shoppers provides you 100% purchase protection for safe payments & transactions. Alternatively, you could also pay cash on delivery for your orders.
This only means, No Mobile Money Option.
The products you can find on Capital Shoppers app include: 

•Mobile Phones
•Mobile accessories
•Laptops, Computer Accessories & Tablets
•Electronic gadgets
•Games & Gaming Console
•Home & Kitchen Appliances
•Women's Clothing
•Men's Clothing
•Women's & Men's footwear
•Sports, gym & fitness products
•Groceries
•Luggage & handbags
•Personal care appliances
•Home & Furniture
Usability and Performance
To fully enjoy the App, you must have an internet connection. For the while I have used the App, there has been a lag and freeze and an 'error' message has popped up on several occasions. This only means that app indeed has some bugs that need to be fixed.
Interestingly, you can Track your Orders

 as they come to your doorstep, the app offers you perfect order tracking and status update of your orders. You can also check your order status anytime through up to the minute updates on the status of your orders & you can choose to track it anytime through the 'Orders History' menu option.
Sadly though, the app has many redundant features that advisably should either be merged or removed.
How to Use the Capital Shoppers App
For starters, Simply download the app on your device (phone) and create an account for yourself. Get to the Home screen where you will find links to all the category products, along with amazing offers, deals and discounts under the 'Offers of the day'.
1. Easily type in the product you are looking for in the 'Search' tab and find it instantly
2. Narrow down your search using filters like price, brand to find your desired product
3. You can also add products to your wishlist with a single tap
4. To place the order, choose among easy payment options like Cash on Delivery (COD), debit card, credit card, etc.
5. Track your orders inside the app, get notifications on personalized offers, price drops, order status, exclusive launches and upcoming sale events
6. Receive your order or contact the 24×7 customer support for any product or delivery related issues.
The Pros
Great Categories
Light App
Easy To Use
The Cons
The app is Too Crowded
Slow-ish
Redundant Categories