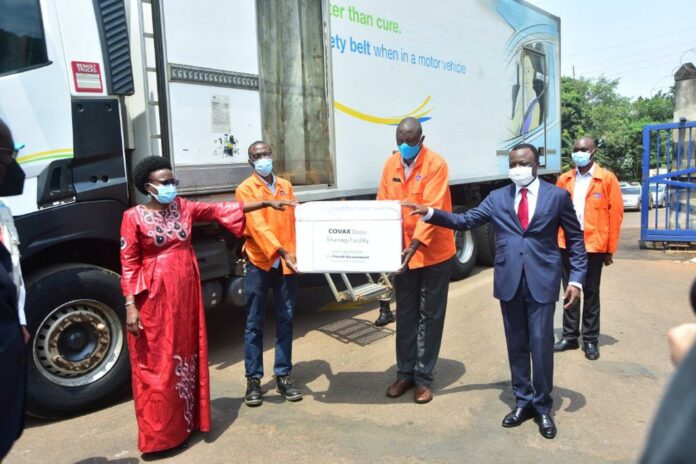 As we continue to battle with the pandemic, good news is not easy to come by but fortunately Uganda has some good news during the fight against Covid-19. National Medical Stores (NMS) received 175,200 COVID-19 vaccines from the Ministry of Health.
The AstraZeneca vaccines will be stored at the NMS headquarters in Entebbe. NMS' mandate is to procure, store and deliver drugs mainly to public health facilities. The Minister of Health Dr Ruth Aceng received the vaccines from the donors – the French government represented by Ambassador Jules-Armand before handing over the consignment to NMS at the NMS HeadQuarters.
The vaccines were delivered by a KLM flight which landed at Entebbe International Airport at 10:00pm.  This was the third consignment of COVID-19 vaccines to be received, stored and distributed by the NMS since March 2021. 
The new doses bring to 1,139,200, the total number of COVID-19 doses received by Uganda since March 2021. 
"We have already brought these vaccines from the airport to NMS – our central vaccines store." NMS General Manager Moses Kamabare said.
According to NMS, the transportation and delivery of vaccines will commence immediately they receive the distribution list from the Health Ministry.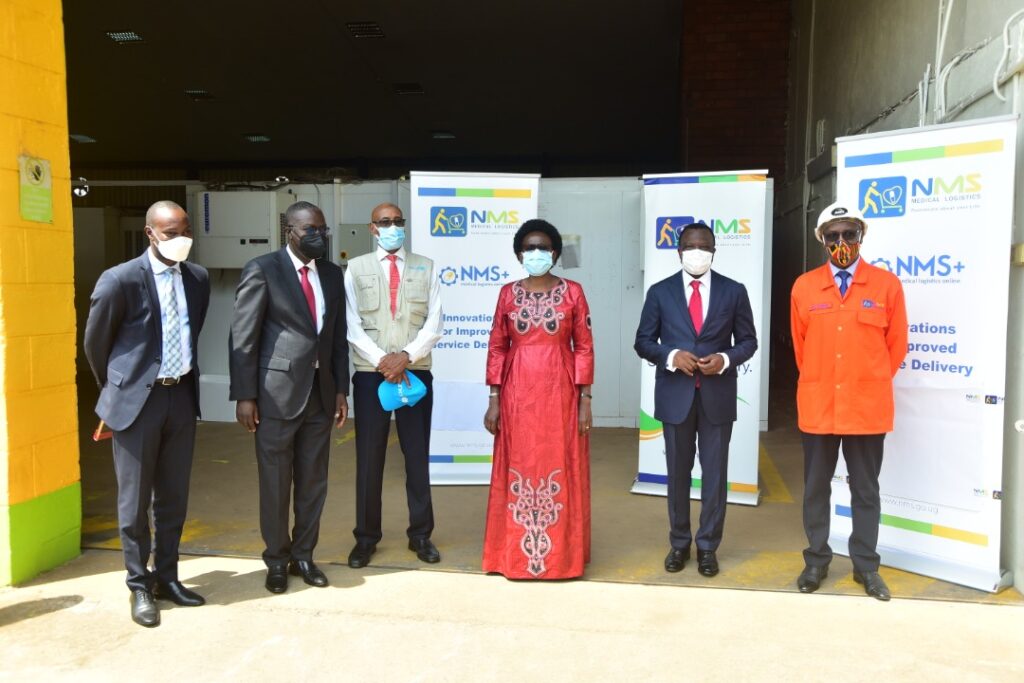 NMS has a modern 7,200sqm warehouse at Entebbe (present location) which is used for the orderly receipt, storage and packing of medical supplies destined to GOU Health facilities.
 French Ambassador to Uganda, Jules-Armand Aniambossou, hailed the good relations between Kampala and Paris. "I am very glad to be part of this ceremony. This country did well in addressing the COVID-19 pandemic. However, the situation currently is difficult," he said.
Minister Aceng thanked the donors for the goodwill gesture. She said the donation was timely considering the country is struggling to cope with the impact of the Coronavirus pandemic. She also stated that they had administered the vaccine effectively and had no cases of expired doses.