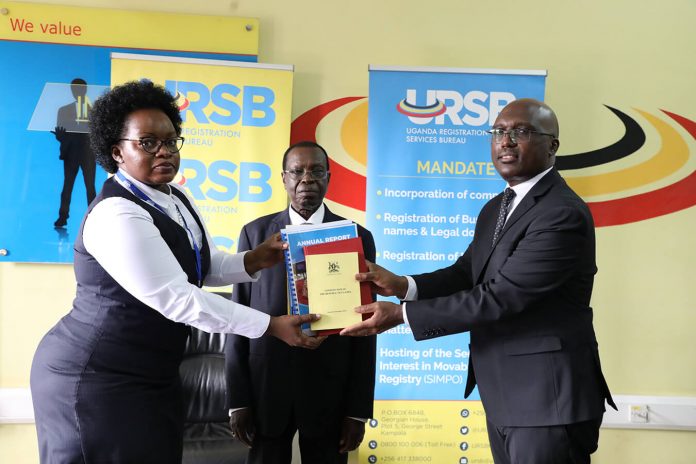 Mr. Bemanya Twebaze, the outgoing Registrar General, Uganda Registration Service Bureau (URSB) this morning handed over office to Ms. Mercy Kainobwisho, the incoming Registrar General.
This handover follows the election of Mr. Bemanya Twebaze as Director General of African Regional Intellectual Property Organisation (ARIPO) and the appointment of Mercy Kainobwisho as acting Director General and Official Government Receiver. The handover was witnessed by URSB Board Chairman Ambassador Francis Butagira together with other members of the board and Top Management.
Speaking at the handover, Bemanya urged the team at URSB to further the registrations journey and complete the digitalization process that URSB had ushered in under his tenure.
"It has been an honor for me to have been at the forefront of formalizing our economy through the various services we provide here at URSB. I am thankful to all the teams that have helped me serve, the support from Government and H.E President Museveni, the Ministers of Justice and Constitutional Affairs I have had the joy to serve under and the URSB Board, who have given me a platform to serve my country. A lot more needs to be done and I am confident that Mercy will further the successes made so far.''
Incoming Registrar General Ms. Mercy Kainobwisho affirmed her commitment to delivering improved services under the pace set by her predecessor. "I am pleased to take on such a vital role in transforming service delivery in the country. We shall continue working tirelessly to ensure all URSB services are accessible online and propel the vision as the centre of excellence for registrations services''.
Board Chairman Ambassador Francis K. Butagira said he was confident that the leadership transition would strengthen the steady strategic directional path that organization had instituted. 'I know that Mercy fits in well with the leadership pace already set by Mr. Bemanya. I have worked with both of them for some time and I can attest to their credible attributes that have seen URSB grow in leaps and bounds' he said
Ms. Kainobwisho will take forward a number of initiatives that will transform URSB's mandate of Business, Marriage, Intellectual Property, Insolvency and Security Interest in Movable Property Registrations. URSB has among others, embarked on integration of all their services online under the All-digital, all-online service delivery model with the aim of easing information sharing, digitalization of all records, improvement of services for clients, reducing the cost of and improving the cost of doing business, improvement of turn-around time for services as well as enhancement of public service delivery.