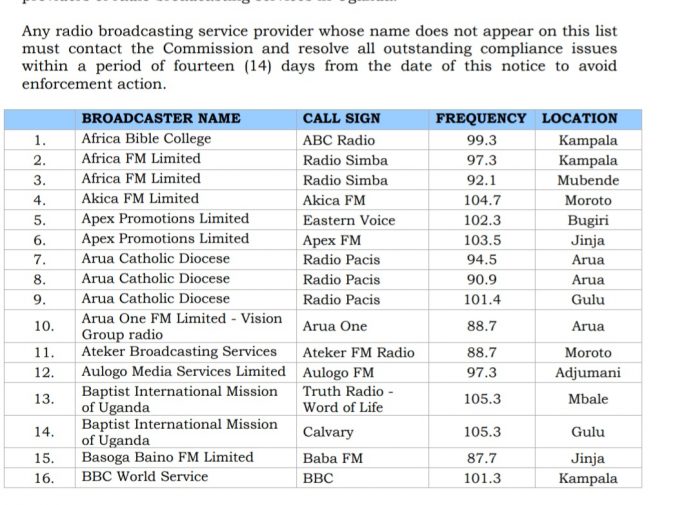 In what might be interpreted by the civil society spaces as a clamp on the guaranteed freedoms of expression, speech and press in Uganda, the Uganda Communications Commission (UCC), has published a list of approved radio broadcasting service providers in country.
According to a publication on its website, the Commission informs the public that "the radio stations listed hereunder are currently the only authorised providers of radio broadcasting services", and goes on to list a total of 194 registered frequencies all over the country. To note, some radio stations have more than one frequency.
Uganda is currently undergoing an election season to determine the leaders of the country in the coming polling dates next year (2021), and in an attempt to regulate broadcasts by all the media, the Commission has been on several occasions seen trying to enforce its position as a regulator of "telecommunication, broadcasting, radio communications, data communications and infrastructure" citing the authority conferred to it under section 4 of the UCC Act of 2013.
A few days ago, the same Commission made attempts to stop certain YouTube channels from what it has called a circulation of propaganda because of their row and unfiltered broadcasts of opposition campaigns, when it wrote to Google in the USA to block the stations. However, the fruition of the requests might be unrealised following a statement by an official from Google who expressed that the request will not be adhered to by the internet giant without a court order.
To date, we have seen several online TVs and Radios coming up, and several of these are excluded from the list of approved stations as these lack licenses to provide the services they do.
The internet is an uncharted territory for the Commission, and as a result of the ravaging COVID 19 pandemic, several streaming platforms are on the rise and they do not need to be assigned frequencies to operate on because of their medium of operation . The internet is an apparent free space.
Below is the list of approved ratio stations as of the 10th December 2020, and those who do not appear in the list have been asked to approach the Commission within 4 days from the date of receipt of the list (23rd December when it was published on the Commission blog) to avoid enforcement.