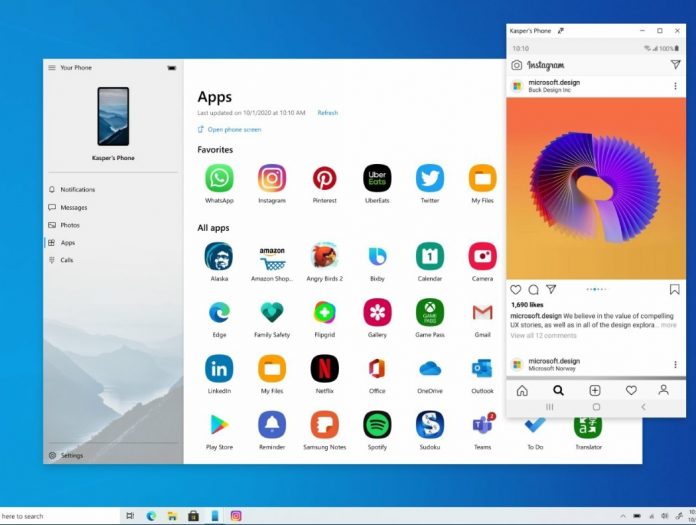 Microsoft has now made it seamlessly easy for users to access their phone apps on computer using the "Your Phone" application installed both on PC and Android. It is either installed or it comes pre-installed in select devices.
According to a tweet by @MSYourPhone, Microsoft has announced that the option to use phone applications on computer is now available, however only on select Samsung devices after a partnership between the two was made.
"We are excited to announce that the Apps feature is now rolled out to everyone with supported devices" reads the tweet, promoting a feature that "allows you to instantly access you Android phone's mobile apps directly from your windows 10 PC".
The supported Samsung devices that support apps preview include Samsung Galaxy (Note 9, S9, S9+, Note10, Note10+, Note10 Lite, Ford, S10, S10+, S10 Lite, S10e, Note20 5G, Note20 Ultra 5G, A8s, A30s, A31, A40, A50, A50s, A51, A51 5G, A60, A70, A70s, A71, A71 5G, A80, A90s, A90 5G, S20, S20+, S20 Ultra, XCover Pro, Z Flip, Z Flip 5G, and Z Fold2 5G), and Microsoft's Surface Duo.
To enable the feature on those phones, you will have to go to the settings of the phone, choose advanced feature, then look for Link to Windows to enable the feature, and for those that are not supported, they will have to download the application "Your Phone Companion – Link to Windows" from play store.
Before the new update, through the application, one was only able to see notifications, create and read messages, photos, make calls and check call logs, that appear on the android devices. The update to introduce the access to apps implies that the non – supported phones will still be able to access the other features above minus the option to use applications.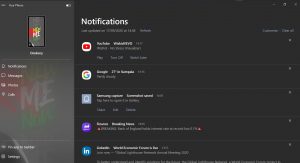 One fascinating feature with this application is the ability to "Continue on PC" that allows you to continue reading contents off a web page from the phone to your PC by simply opening the webpage on the phone, and clicking on share, then choose "Continue to PC". You will magically see the web page loading on the same browser but on computer. For example, if you Chrome from phone opens the web page on Chrome on your PC.
In a select number of phones, users can also drag a file from the phone to the computer and vice versa, as opposed to sending the files via Bluetooth, data cable or email.
Your Phone app only works if your computer supports Bluetooth and so should your phone, as it is what will be used to pair the devices.