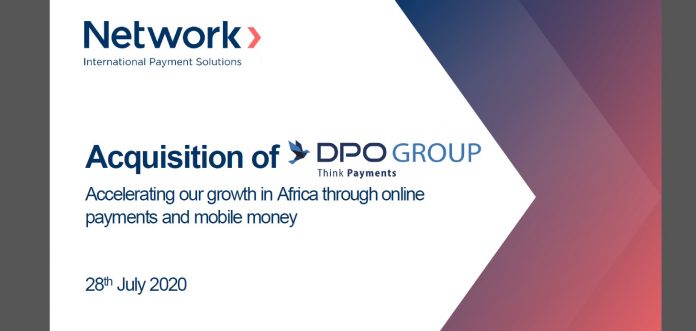 African FinTech Startups seem to be up for grabs lately. About a month ago an African and Uganda based fintech Beyonic was acquired by MFS Africa a "pan – African payments gateway that connects wallets across different mobile money platforms through APIs…"
Guru8 has now learnt that another fintech offering similar services like MFS and Beyonic is being acquired by an outside-Africa entity.
DPO Group is being acquired by UAE's Network International Holdings PLC (NIH) that is headquartered in the UK. NIH also listed on the London Stock Exchange describes itself as a technology that enables payment solutions to merchants and financial institutions in the Middle East and Africa (MEA), with operations in the UAE, Egypt, Jordan, South Africa and Nigeria.
DPO has a major presence in Africa and all over, globally, it is available in over 19 countries while in Africa, the major markets are Kenya, Tanzania and South Africa, and boasts of over 40,000 merchants.
In a press statement released on the 29th July 2020, NIH has revealed that there is a proposed acquisition of DPO "to accelerate our growth in Africa through online payments and mobile money" where DPO and NIH have entered into an agreement to acquire DPO group, "the leading, high growth online commerce platform in Africa".
The acquisition is valued at approximately USD 288 million, which financing is said to be "almost funded through the proceeds from an equity placing". Part of the funding of the total consideration will be in equity where USD 13 Million in stock from Network International will go to the founders of DPO, another 50 million will be vendor consideration shares that will be issued to APIS Growth Fund I (it has been a significant funder of DPO), and the balance to be funded via existing debt facilities.
It is expected that completion of the transition will be done in Q4 2020, "subject to customary closing conditions including regulatory and anti – trust."
The choice to acquire is to consolidate and accelerate the NIH "presence in Africa, the most underpenetrated and fast – growing payments market in the world".
While commenting about the transaction, the Chief Executive Officer of NIH, Simon Haslam, commented that at NIH, they are "excited by the proposed acquisition of DPO, the leading high-growth online commerce platform operating at scale across Africa." He describes Africa as a "vast and diverse continent, representing the world's most underpenetrated, nascent and fast – growing payments markets, where we have seen recent signs of an acceleration in those trends".
He adds that DPO will further consolidate the presence of NIH in Africa, strengthen their "position across the entire payments value chain and accelerate our growth". The acquisition he says "will widen our capabilities across online, mobile and alternative payments; bring an extensive and diverse range of direct merchant relationships to our business; and provide a wider range of solutions for our existing customers".
"We look forward to bringing our two businesses together and welcoming DPO's colleagues into our group. Together, we have a powerful combination to accelerate digital payments across our regions and deliver significant shareholder value" concludes.