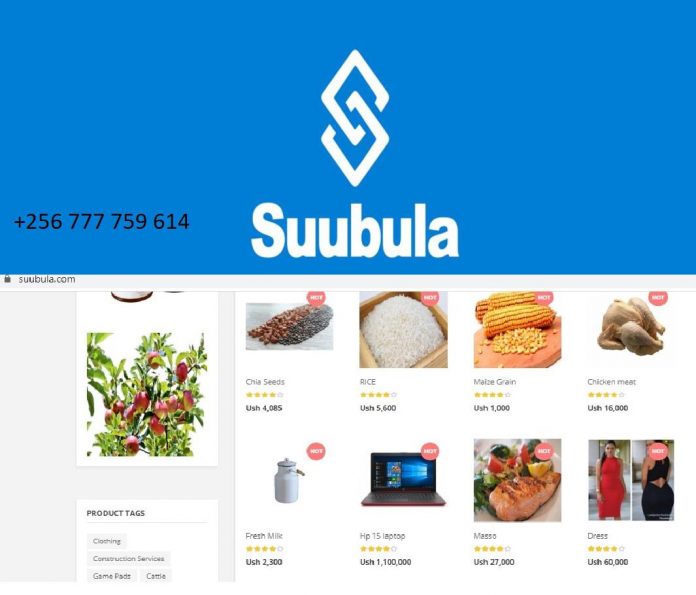 Suubula.com, the new marketplace which provides space for listing of products and also delivers orders to homes and offices anywhere in Kampala within a period of 45 minutes, has been listed by Government of Uganda as one of the main electronic solutions to help in mitigating the impact of Coronavirus. 

The National Information Technology Authority (NITA-U) said in a statement this week that the list of e-service providers was in line with the "Presidential advice on social interactions and public transport to reduce transmission on Corona Virus. "
NITA-Uganda said the electronic channels would reduce the impact of COVID 19.
They include online shopping apps, online food and commodity delivery channels, e-learning applications, utility payment platforms and many more. Other listed platforms include Jumia Food. 

Suubula.com gives space to people from all walks of life to buy and sell goods.
Traders, entrepreneurs, farmers, wholesalers, retailers, brokers and businessmen can now list goods (garments, shoes, agriculture produce, farm inputs, wines, art pieces, livestock, poultry and cosmetics etc) on Suubula.com.

For example, people who are stranded at home because of Coronavirus but can grow flowers for sale, bake cakes or pastries, prepare fruit juice or yoghurt or ghee or draw art pieces for home design etc, can also list their products on Suubula.com to attract potential buyers.

Businesses encouraged to tap into Suubula.com's potential include salons, bakeries, bars, restaurants, hotels, event houses, recreational facilities, gyms, real estate, etc.
Suubula.com Chief Executive Officer, Camble Hope says "everyone has a skill that can be monetized when linked to the mass market, hence positively impacting small businesses and the general economy."

Nita-U publicist Steven Kirenga said "Ugandans are therefore encouraged to make use of these available electronic means to reduce human interactions and any subsequent spread of the COVID19 pandemic."

He added: "Ugandans can still access over 90 e-services on the e-citizen portal www.ecitizen.go.ug Mobile Applications and E-Solutions to take you through the COVID Crisis with no social interactions."