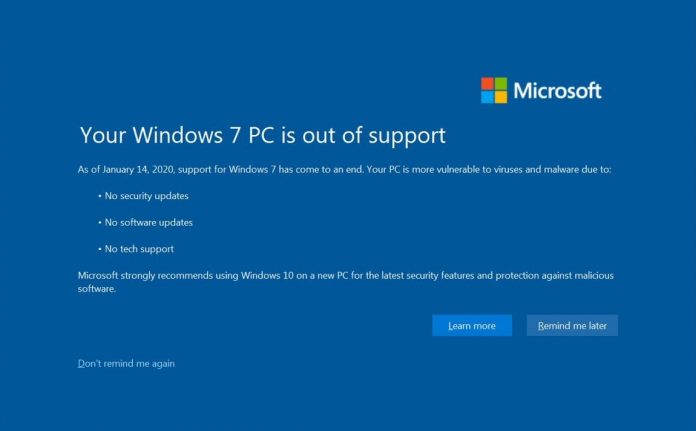 After nearly 11 years since it's launch in New York to fix the failures of Windows Vista, Microsoft is finally dropping support for Windows 7
Windows 7 has been so popular, in fact, that it took Windows 10 nearly four years just to pass it in market share.
Even today, millions of PCs are still running Windows 7, and the operating system still runs on a massive 26% of all PCs according to data from Netmarketshare.
Microsoft spent years trying to get people to upgrade to Windows 10 free of charge, but tens of millions of PCs will now be left vulnerable to exploits and security vulnerabilities.
Businesses and education Windows 7 users will be able to pay for extended security updates, but it could be a costly venture for some. Extended updates for Windows 7 Enterprise is approximately $25 per machine, and the cost doubles to $50 per device in 2021 and again to $100 in 2022.
Microsoft has been notifying Windows 7 users throughout 2019 about yesterday's end of support, so people still stuck on the OS can't say they haven't been warned.
A full-screen notification will appear for Windows 7 users today (Wednesday), warning that systems are now out of support.
Microsoft is trying to convince existing users to upgrade to machines running Windows 10, a trend that caused the global PC market to have its first year of growth since 2011.