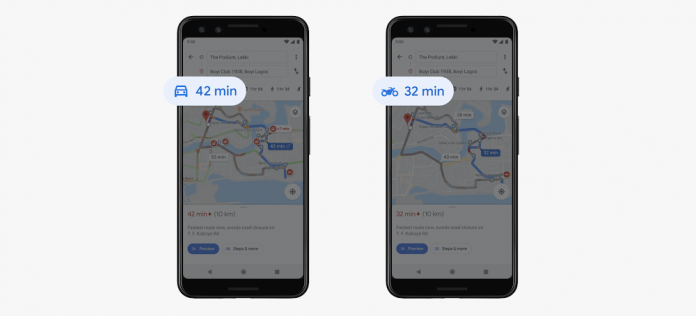 Today, Google announced its initiative to provide support for Nigeria with improved Google Maps, Photos Go, Google Lens and Bolo which have been localized in an initiative dubbed Google For Nigeria.
One of the announcements that will get some countries across the continent happy include; the improvement of Google Maps in countries that have a high usage of motorcycles. These countries include Nigeria, Benin Republic, Ghana, Rwanda, and our beloved Uganda. Google intends to start with improved Google Maps in Nigeria and will scale to other countries over time.
Often, triggering the motorcycle route in maps brought a route that is accessible by walking which is not possible in some cases. So shortcuts for bikes and one-way roads were not clearly shown.
With improvements to the maps in the continent, ride-hailing apps such as Uber, Safeboda are most likely to benefit because users will be able to navigate easily.
Below is a quote from the Google Blog about the launch of Google For Nigeria;
Google Maps helps you navigate, explore and get things done. Nigeria has over 10 million motorcycles and we all know that they move differently from cars. We're introducing a dedicated travel mode to provide directions and navigation for motorcycles in Nigeria, Benin Republic, Ghana, Rwanda, Togo and Uganda. We're also launching navigation instructions in a Nigerian voice for both motorcycle and car driving modes, so that local names and places get pronounced as they should be.


Traveling through Lagos, one of Africa's busiest cities, is often a challenge with unpredictable factors that affect journey times. In the next few months, we'll introduce a new directions experience for Lagos optimized for informal transit, bringing Danfo routes into Google Maps.

– Google Blog
Are you excited about the new changes from Google in Africa?