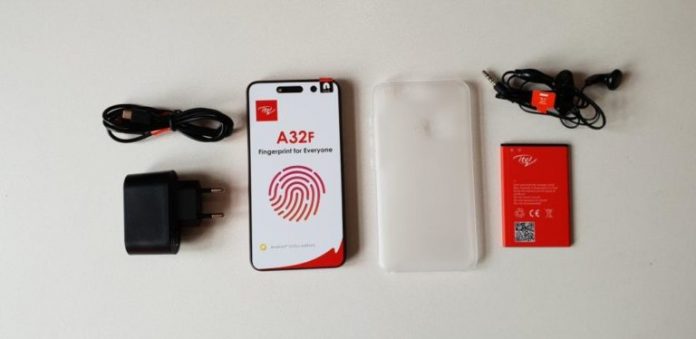 Itel a company that has positioned itself to release a budget-friendly smartphone has released yet another banger, the Itel A32F and is already a banger even before it fully solidified. Fronted with "fingerprint for everyone", slogan, the Itel A32F is of indeed a major upgrade and a clear sign that itel has indeed come of age and have revolutionized the business.
Most Importantly, the Itel A32F will be going for only UGX 255,000 in stores across the country.
In a quick view….
The whole new itel A32F that comes with a fingerprint scanner also flaunts The A32F Android 8.1 Oreo Go edition out of the box, Which works seamlessly with Go apps. There's 8GB storage and 1GB RAM onboard as well.
The A32F design comes in a metallic back cover, curved edges and sides that gives a comfortable grip. Although the highlight of the device is the rear fingerprint scanner security feature, there is more to enjoy from this new release.
On the inside…….
The Itel A32F has a MediaTek MT6737 and with Quad-core processor and 64-bit CPU architecture. The 4-Cores of processor here clocks at a standard speed of 1.3GHz with 28nm process technology. The ARM Mali-T720 MP2 graphics processor handles graphics and clocks at 600MHz.
Multitasking of light and Go apps shouldn't be a problem with just 1GB RAM space available here, it has a memory speed of 533MHz. It packs a standard 8GB storage space, with a remaining storage space of 4.6GB. Nonetheless, you can upgrade up to 32GB with a memory card. The A32F runs on Android 8.1 Oreo Go Edition out of the best.
Camera
It has a 5MP rear camera for all your photography needs, the camera has f/2.4 aperture and a dedicated LED flash for night shots. While the 2MP selfie camera has a front LED flash as well, for night selfies and video calls.
There is more to look out for this smartphone and here is a full list of the Specs.