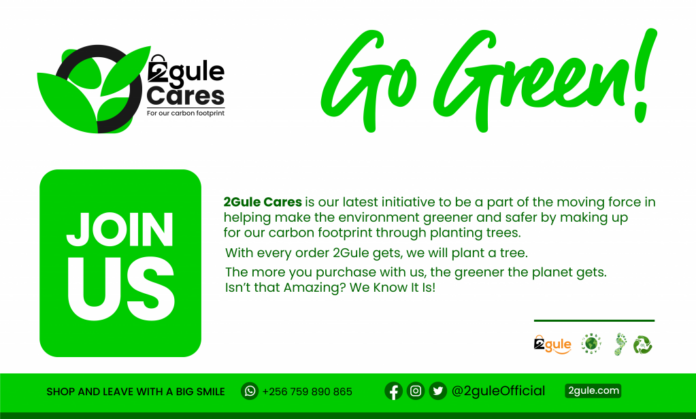 Uganda's climate is naturally variable and susceptible to flood and drought events which have had negative socio-economic impacts in the past. Human induced climate change is likely to increase average temperatures in Uganda by up to 1.5 ºC in the next 20 years and by up to 4.3 ºC by the 2080s. Such rates of increase are unprecedented.
About a month ago, 2gule, an online shopping brand that focuses on importing authentic goods from the US, UK and Canada started a campaign to save the environment with each order placed.
On Sunday, 2gule under their campaign 2gule covers planted over 100 trees which basically means that they have over 100 orders during the Month of September – the more orders you place, the more trees that will be planted by the team, fans, and cheerleaders.
The idea is to plant a tree per order made on 2gule. This is all in a bid to disperse the carbon footprint caused by their work. According to experts, Uganda has already lost two-thirds of its forests in the last 20 years and could have lost all of its forested land by 2050, which would have severe repercussions for its poorest people according to environmentalists.
Dubbed 2gule Cares, this is the latest initiative by 2gule to be a part of the moving force in helping make the environment greener and safer by making up for our carbon footprint through planting trees.
This is all under the campaign's mission to achieve net-zero emissions by 2030. Here they strive for clean operations for climate protection and averting the effects of their own carbon footprint.
With 2gule Cares, every stem counts because they are planting a tree today for a better tomorrow. Sustainable Development Goal 13 aims to "take urgent action to combat climate change and its impact", while acknowledging that the United Nations Framework Convention on Climate Change is the primary international, intergovernmental forum for negotiating the global response to climate change.
More specifically, the associated targets of SDG 13 focus on the integration of climate change measures into national policies, the improvement of education, awareness-raising and institutional capacity on climate change mitigation, adaptation, impact reduction and early warnings.
Human induced climate change in the coming century has the potential to halt or reverse the country's development trajectory. In particular, climate change is likely to mean increased food insecurity; shifts in the spread of diseases like malaria; soil erosion and land degradation; flood damage to infrastructure and settlements and shifts in the productivity of agricultural and natural resources. However, you could be part of the change by making an order today and being part of the 2gule Cares campaign.