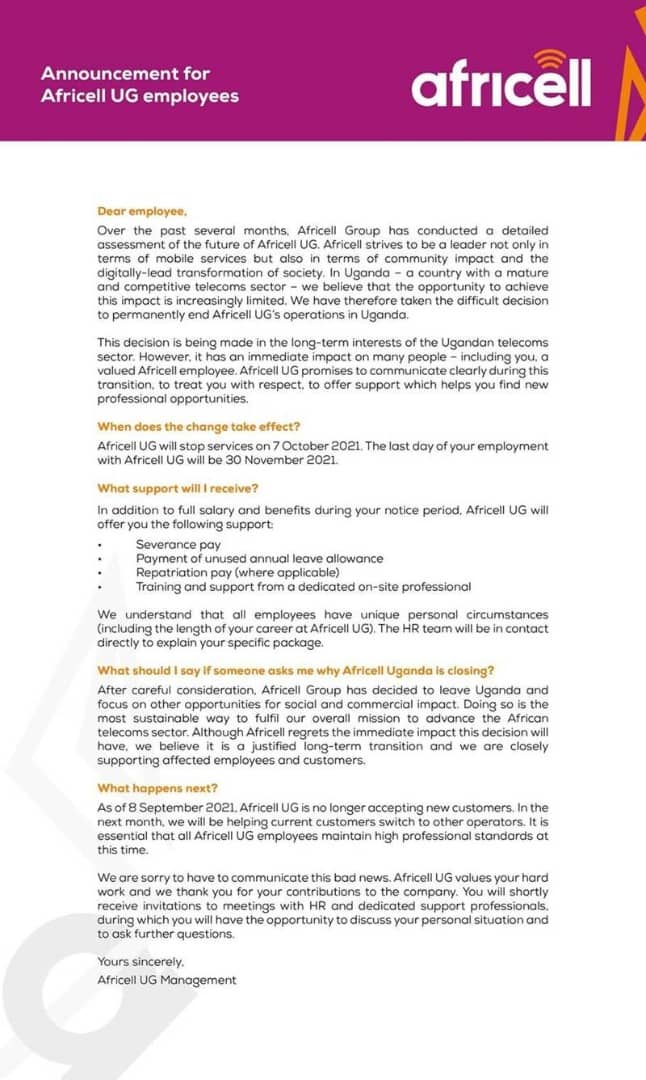 Guru8 has received and read a communique from the Africell Group management directed to Africell UG employees revealing that the telecom company will be exiting the country after the problems it faced in the country.
According to their statement, while the company strives to be a leader in the sector, the same was not possible because Uganda has a "mature and competitive telecoms sector" and as a result, "the opportunity to achieve (the leadership impact) was increasingly limited". As a consequence, the company has decided to take the "difficult decision to permanently end Africell UG's operations in Uganda".
While the communique does not specifically mention COVID – 19 as a justification, many companies have been closing shop in the country owing to the cost of operation brought about by the impact of the COVID – 19 pandemic. The telecommunications sector in Uganda has been highly dominated by MTN and Airtel networks.
As of 7th September 2021, the company will stop services including not accepting a registration of new sim cards or new customers. The communique has gone on to notify employees that the last day of their employment will be the 30th November 2021. It will stop operations on 7th October 2021.
From the statement, the company leaving in order to "focus on other opportunities for social and commercial impact" as that is the "most sustainable way (for the company) to fulfill (their) overall mission to advance the African telecoms sector".
The company will be using the rest of the time from the 8th September 2021 to help their current customers to switch to the other available operators.
It should be noted that Africell came into Uganda in later 2014 after it acquired the Orange Uganda, and has now only been in the country for about 7 years.
The company has also released a statement on their website to that effect.