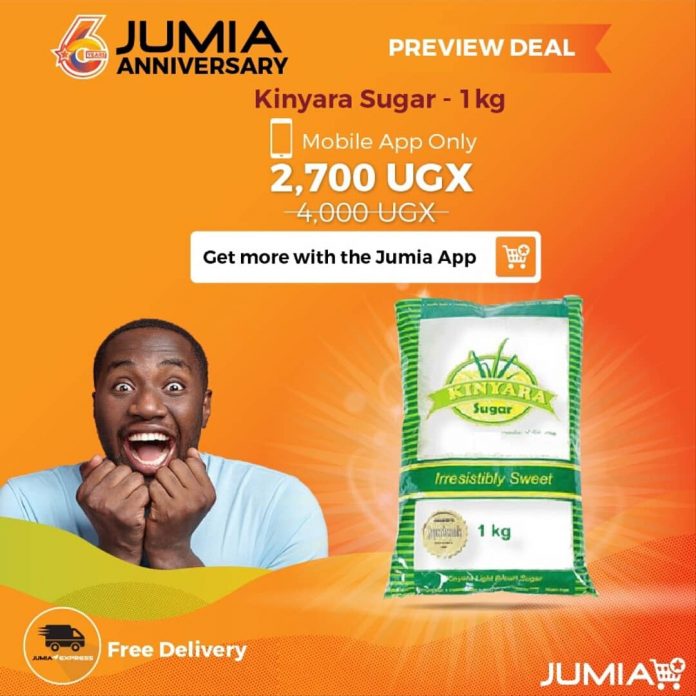 Customers on Jumia will have the chance to buy 1 kg of Sugar for only 2700 Ugx through the Jumia app and also enjoy free delivery in Kampala during the 'Pre Jumia anniversary" campaign running from the 2nd to the 6th of July, 2018.
"The 'Pre Jumia anniversary' campaign is to get our customers and the general public ready for the mind blowing discounts and deals we are going to have on the platform during the Jumia anniversary. They have made us the biggest online shop in Uganda and we want to celebrate (Salebrate) our six year anniversary in style with them." Said Jumia Chief Marketing officer Neville Igasira Igunduura.
As more people continue to embrace online shopping for their day-to-day home supplies, the campaign is also aimed at eliminating the perceived online buying barriers and bias.  New customers can experience a seamless online shopping experience for basically free. Existing customers in kampala will also benefit from trying out the Jumia express promise, which is delivery of items in 24 hours plus the added bonus of the deliveries being free.
The company continues to grow its market share in the everyday essentials category, as Fast Moving Consumer Goods continue to grow quickly. According to figures published by Jumia, the category has the highest share of repeat purchases out of any on Jumia and this because customers are getting accustomed to the convenience of the service.